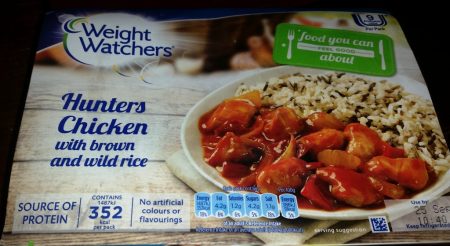 Don't all shout at me, I know I've said I don't eat rice these days but this review was written some time ago but never published.  This is Hunters Chicken and from the Weight Watchers range, a range in which we've already seen us review the impressive Salmon and Broccoli Wedge Melt  and the less so impressive Thai Green Chicken Curry.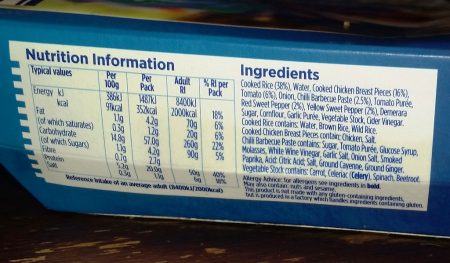 You can see the ingredients and nutritional information above, you'll notice there was 352Kcal (calories per pack) of which 4.2g were fat.  As I'm now on a low carb diet… I wouldn't be eating this because of the rice, it's a whopping 57g of Carbohydrates which is about more than I plan to eat in a three days.  The ingredient list is awesome, because it almost tells you how to make BBQ Sauce.  Hunter's Chicken is chicken in a BBQ Sauce, it can be topped with cheese and is often found on gastro pub menus.

The cooking instructions are easy to follow and include instructions for microwaves which are 750W and 850W.  The printing is clear to understand and spread out fairly well.  The packaging was very clear all round and in my opinion was not too difficult to read.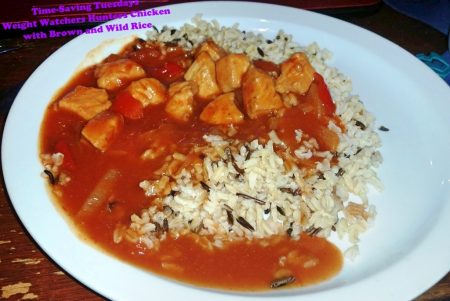 If this dish hadn't had the rice to accompany it I would have really enjoyed it, The Hunters Chicken element was really lovely, chunks of chicken which were succulent and a rich BBQ sauce made for a really enjoyable meal… then there was the rice!  I'm writing this fresh today but I'm going off my notes at the time, the grains of rice was like bullets, I don't think it was the way the dish cooked because everything else was really nice.  Apart from the rice I'd buy this again, but as it comes with the rice I'm only scoring it a 6 out of ten.

I'm back later in the week with a recipe, and then it's Party time on Friday as we get the band back together so to speak.  Greg my mother and I are off to Caradog's for my mother's birthday meal… bring on the fun and food!  Remember you can join us on social media and share with us your thoughts, recipes, and more.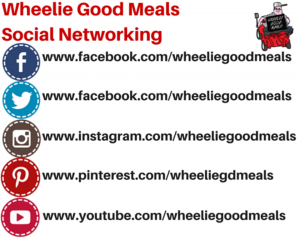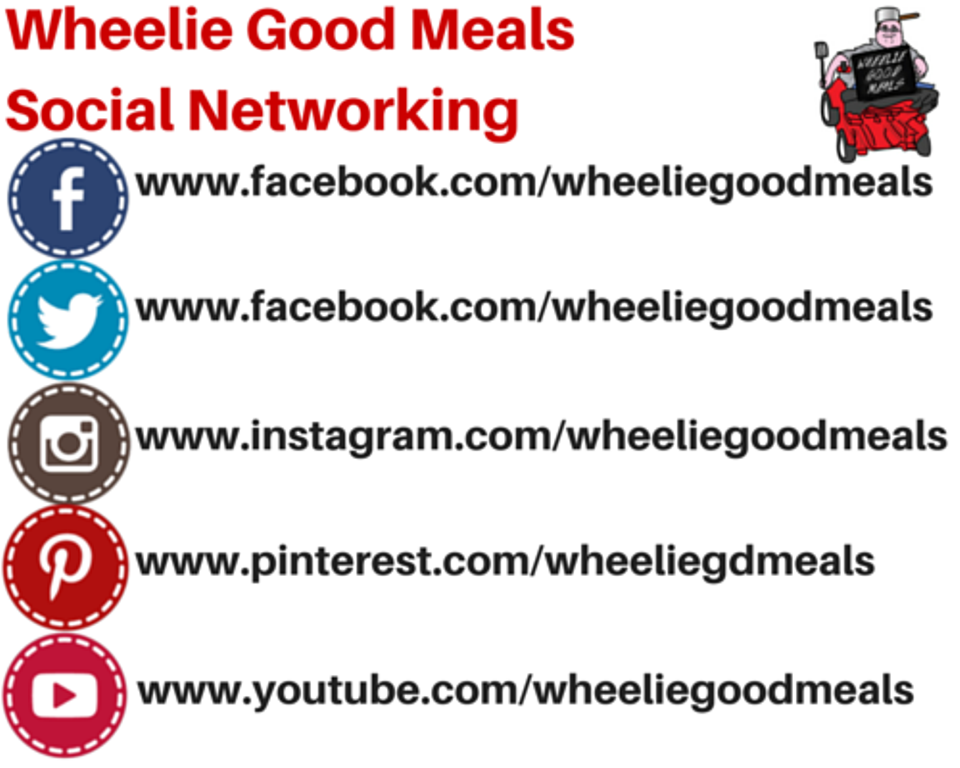 Hope you're all having a good week so far and not suffering in the heat too much!
See you at the end of the week with a great recipe.