This is a quick and simple one, I know it's not strictly a supper as such but it's flipping lovely. This is based on a Hairy Bikers Recipe for Viennese Whirls, Saturday's episode saw a Viennese Waltz which Craig described as having "no grace and elegance" and said it was common but he loved it. The highest scoring Viennese Waltz in this series was from Helen George who scored 39 with her partner Aljaž dancing to "At Last" by Etta James (week 10) and the lowest was by Carol Kirkwood and Pasha who scored 21 dancing to "I've Been Loving You Too Long" by Slade week 5). Sadly Helen and Aljaž were eliminated last night, up against judges' pets Georgia and Giovanni I suppose they were always going to lose.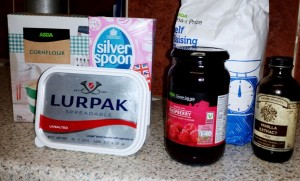 I know what you're thinking, is this an advert for Asda…. no it's not, but my mother shops there, hence most of the ingredients being Asda's own brand 😆 .  There weren't many ingredients as this was such a quick and easy recipe to make, the only thing I'd probably change is I'd add a vanilla pod instead of Vanilla Extract. The equipment required is minimal too, although you will need a piping bag and ideally (though not essential because I didn't have one) a star shaped nozzle.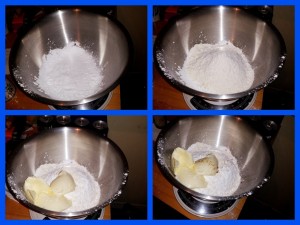 In a bowl weigh out the Icing Sugar, Flour, Cornflour, Butter and Vanilla Extract. Once you've weighted them, mix them thoroughly until their all combined and creamy. I didn't have plain flour I only had Self Raising but it did the job.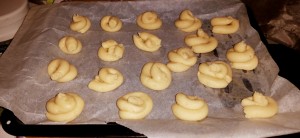 Once fully mixed spoon the mixture into a piping bag with a star shaped nozzle on the end. I didn't have a star shaped nozzle as you can see so Kirsty very efficiently piped them into swirl shapes. When you pipe them make sure you leave enough room between each one.

Place them in a preheated oven for about 15 minutes or until they are a pale golden brown in colour. Once they are cooked place them on a wire cooling rack and allow them to chill out and have a breather while you make the filling…. and no you can't eat them yet… I know you want to I can sense it 😯 !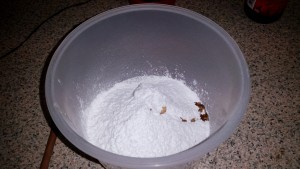 For the filling place Icing Sugar and the Vanilla Extract in a bowl, then add the butter.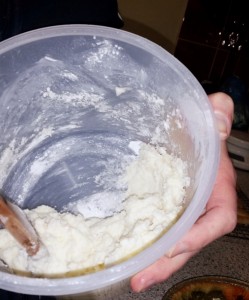 Mix thoroughly until you get a buttercream consistency. The recipe says you need to pipe this onto half the biscuits but we just spooned it on.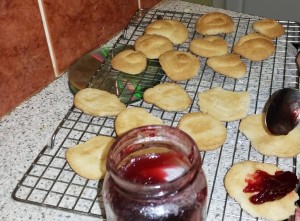 On the other half of the biscuits place the jam. Don't be a burke like me and put too much on, that's what happens when you have a drink when you're cooking… oh yes by the way I've fallen off the wagon… moving on 😳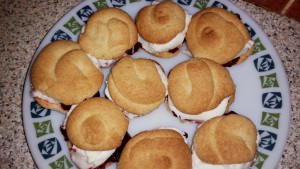 These were buttery and crumbly, they were sweet but the jam helped to balance the sweetness out. These were so good my parents have asked me to make them again, although I've got strict instructions from Kirsty to buy a nozzle for my piping bag next time.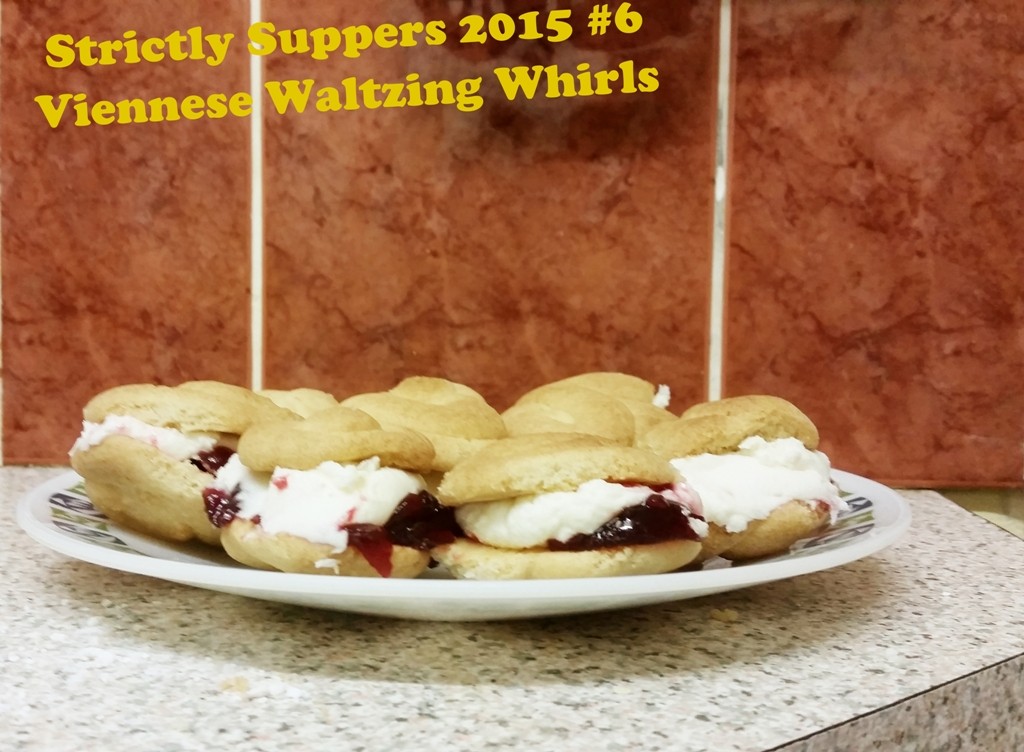 As always you can download my step-by-step instructions here, if you give it a go send in your pictures – I'd love to see them. I really enjoyed cooking this, although in actual fact, other than spread a bit of jam I didn't do a lot, Kirsty did most of the work. If you'd like to see the original recipe then go here…. and don't come back…. just kidding<3!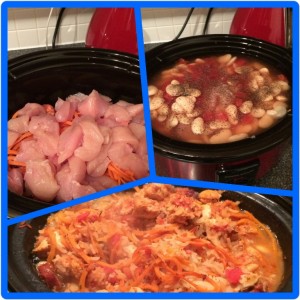 After making the Rumba chicken with me a couple of weeks ago Kirsty went home and made it in her slow cooker, here are three of her pictures. I'd love to see your pictures, email or message me them and I'll share them on here!
Next week we've got a reinvention of one of last year's Strictly Suppers, what will it be… wait and see (I'm a poet and I didn't know it). Tomorrow I'll be reviewing Asda Beef Bourguignon with Merchant Gourmet Red and White Quinoa.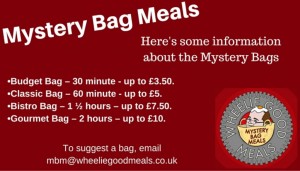 I have another mystery bag lined up for a couple of weeks but if you have anything you'd like me to cook with please get in touch (see the picture above).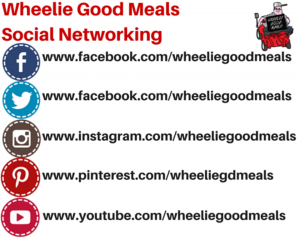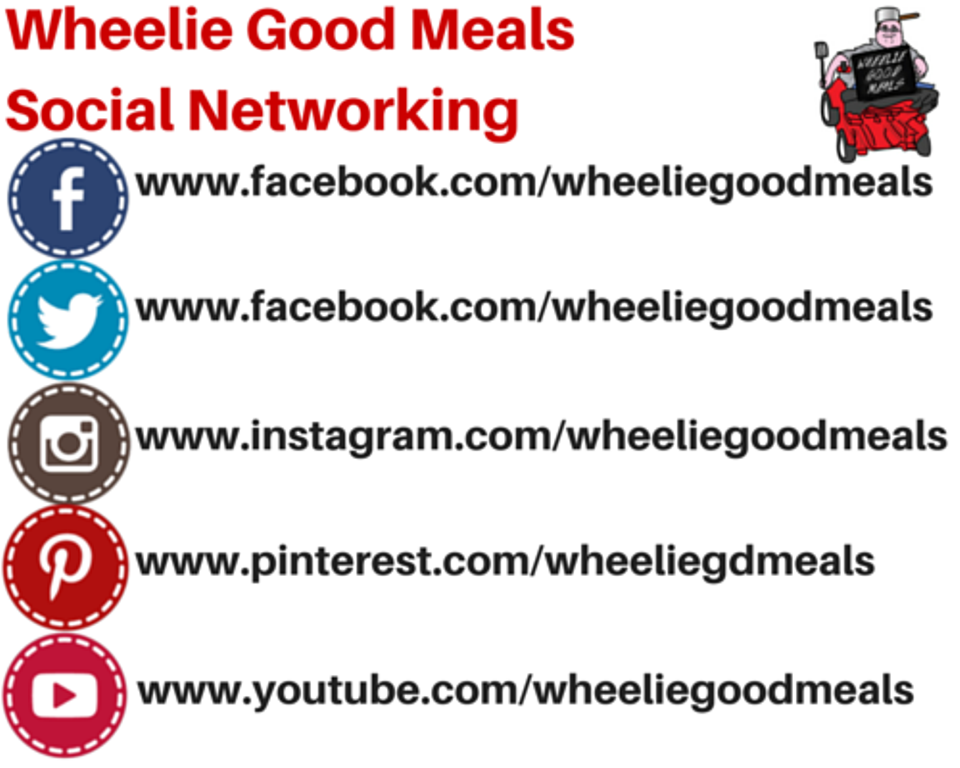 As always you can get social with me, I'd love to hear from you. What are you doing over Christmas, do you have your food all planned?
See you Tuesday