I've gone in a different direction today for my Time-Saving Tuesday's post. I saw Sorted Food host a Question and Answer session on twitter recently so I asked them what their favourite Time-Saving gadget was in the kitchen and they said the microwave… so in honour of that here is my Homemade Microwave Tomato Risotto.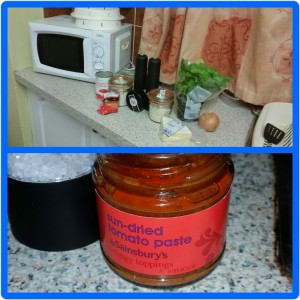 Here are the ingredients for the risotto. They're quite easy to get hold of, I used Arborio Rice as that's my preferred rice grain for risottos. There are two standout ingredients are Sun-dried tomato paste from Sainsbury's which I use regular basis. The other key ingredient was a soft Brie style cheese from Pant Mawr Farmhouse Cheese. It's a cheese I bought from my visit to the Brecon Food Festival, a review on that event to come.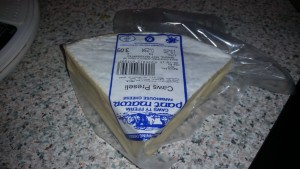 The cheese is stunning, it's soft and has a nice strong taste, but a cheese that anyone could eat even if you weren't a cheese lover.  The recipe I adapted this from used Mozzarella but I chose to use the cheese from Pantmawr Farmhouse Cheese instead, but you could use Mozzarella.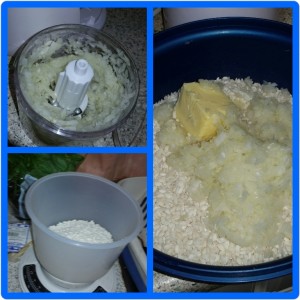 First thing you need to do is prepare all the ingredients, blitz the onions in a food processor, weigh the rice and butter. You can also measure out the vegetable stock at this point and grate or food process some hard cheese. The hard cheese I featured in the picture of the ingredients is not the one I used, this like the Pantmawr Farmhouse Cheese, was bought from the Brecon Food Festival. I was going to use it but I thought I'd use one cheese at a time. Put half the butter, the rice and the onion in a large microwaveable bowl.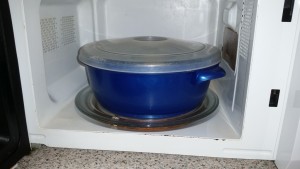 Cover and cook in the microwave on high for 3 minutes, remember that as I always say kitchen equipment varies in temperature and how they are used so use my times as a guideline.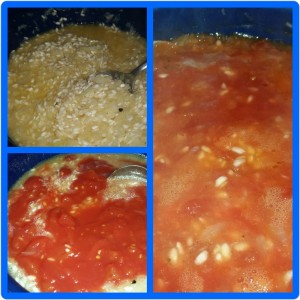 Take out of the microwave and stir in the stock and the tinned tomatoes.  Add some water to the tin of tomatoes once you've emptied them into the bowl, slosh the water around to ensure you have all the tomato in the risotto. The original recipe uses Tomato Passata but I didn't have any so I used tinned tomatoes and the Sun-dried tomato paste. Place back in the microwave and cook uncovered for ten minutes on high power.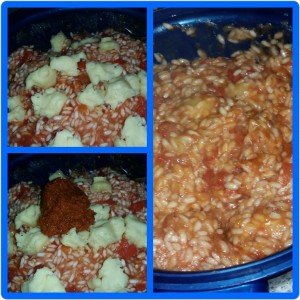 Once the eight minutes is up, take out of the microwave and give it a good stir. Then add the soft cheese and the Sun-dried tomato paste and stir through thoroughly. You need to break the cheese up into small chunks and so that it distributes throughout the risotto, place back in the microwave and cook for 8 minutes.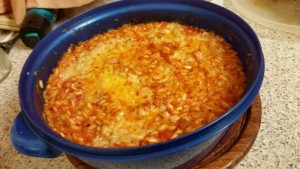 Take out of the microwave and let it rest for a few minutes, do nothing to it because it needs to sit and relax. At this point all the flavours are settling down and getting to know each other.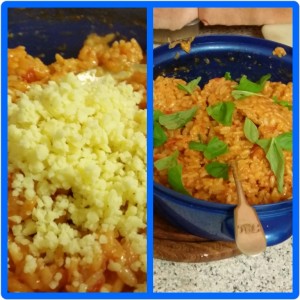 We're now at the final stages of the process, stir in the remaining butter, hard cheese and the basil. Season give it a good stir, leave it for a couple of minutes to allow the hard cheese and the butter to ooze through the risotto.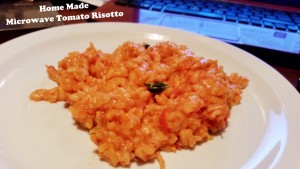 You are ready to serve now, I served mine on a plate, but I'd probably use a bowl next time and decorate with a bit of basil… you know my mother she loves a bit of green. This is a stunning recipe and I really enjoyed making it, I'm going to turn the leftovers into Arancini so keep your eyes peeled for that. You can download a step by step guide to my recipe here, give it a go, it couldn't be easier.  This can be served as either a starter or as a main course, I had it as a main course.Sorted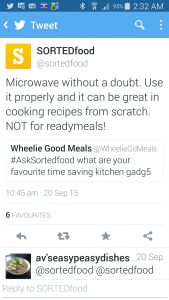 Here's the tweet I received from Sorted food… not sure the ready meal reviews would be popular with them 😆 .
I hope you enjoyed this recipe, as always you can sign up to the blog for updates or you can visit us on our social media pages which are listed below.
Facebook:         www.facebook.com/wheeliegoodmeals
Twitter:              www.twitter.com/wheeliegdmeals
Instagram:        www.instagram.com/wheeliegoodmeals
Youtube:            www.youtube.com/wheeliegoodmeals
Pinterest:           www.pinterest.com/wheeliegdmeals
Thursday I'll be reviewing the Brecon Food Festival I went to with Greg recently, then there's another #StrictlySupper… I wonder what that could be??
Thanks for stopping by, see you Thursday.
Rich