While browsing the internet I stumbled across a fantastic blog called Amuse Your Bouche, a blog that is packed with useful information and fantastic recipes. To visit Amuse Your Bouche click here. This is a great recipe for vegetarian's and one my mother certainly enjoyed.
Amuse Your Bouche is a website set up by Becca and contains a host of fantastic recipes which are a) written in an easy and relaxed style which makes you want to follow them, and also makes them sound tasty and b) easy and straightforward to follow. You can visit Amuse Your Bouche (excellent name) by clicking here… Incidentally Becca also has an excellent resource for bloggers and is willing to help bloggers with advice where needed.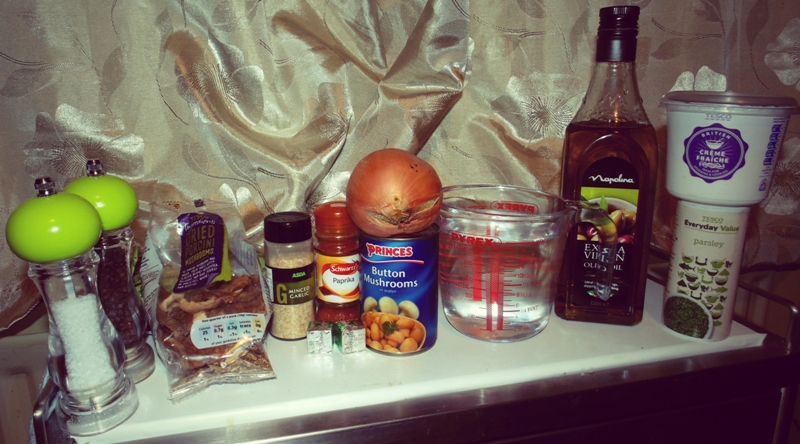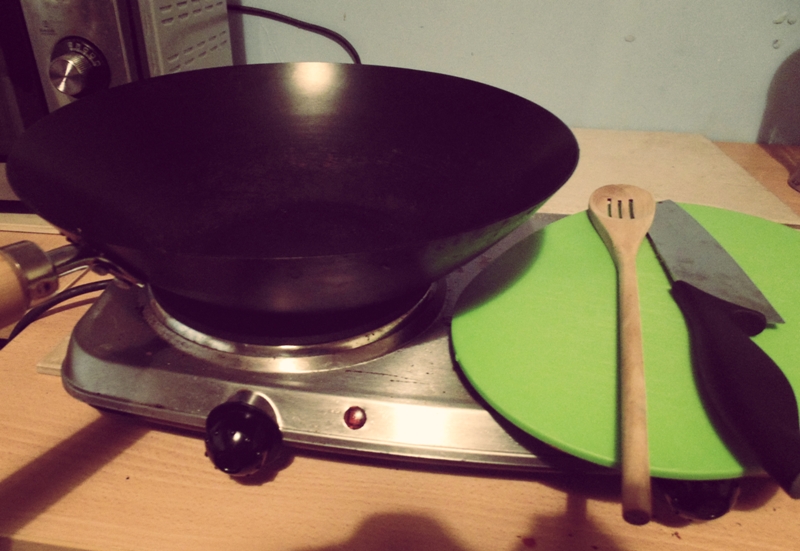 I made this meal as part of a two course meal, prawn cocktail was served to start (you can find that here). I've called this my Store Cupboard Mushroom Stroganoff (you'll notice why by the picture above)!  I've used ingredients I had left over in the store cupboard. I chopped the onions and added them to the pan with Garlic Granules, a product I haven't quite got my head around yet. In the recipe I say use 2 tea spoons of these granules but you could use four garlic cloves or two teaspoons of lazy garlic… it all depends on how garlicky you like your food.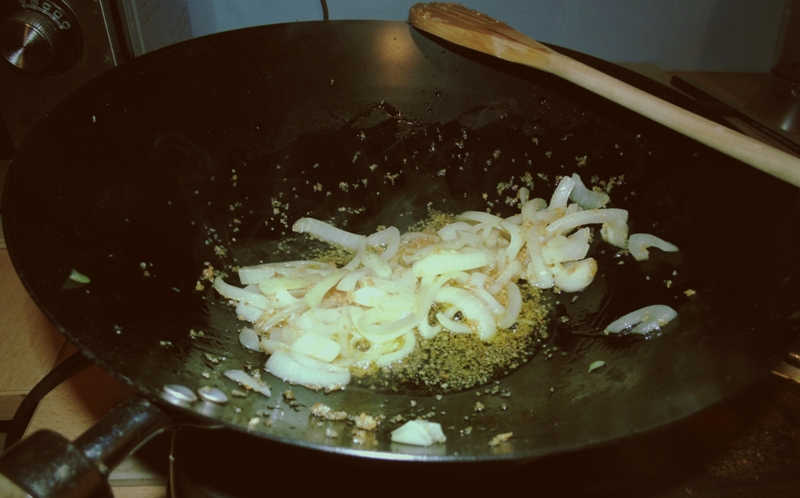 If I haven't told you already I'm not a big mushroom fan, in fact that's an understatement…. for fear of sounding like Hayleigh and Alice it's a texture thing for me and I can't get my head around them :). However, (clearing his throat from sounding like a wimp) my mother loves them, I didn't have any fresh mushrooms in the house, but did have some dried and tinned in the cupboard (hence the name of the recipe). Becca recommends using 500g of chopped mushrooms. The one thing I'd change is I'd probably add more paprika as I think it was a little lacking, I've said 2 heaped Teaspoons in the recipe but you could get away with more, remember it all depends on your taste!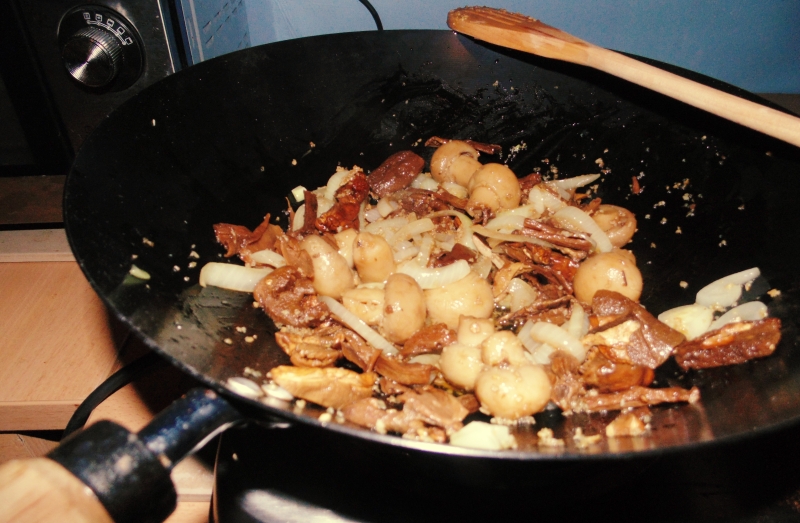 I'm also glad of this recipe as its vegetarian and we are not very good at vegetarian recipes. I really like Amuse Your Bouche because it's packed with great vegetarian recipes. I made an alteration to the recipe I've added 400ml of stock not 50ml, as I was intending on making more sauce so I could have some myself without the mushrooms. I also used 4 table spoons of Crème Fraiche as I didn't have Sour Cream so it was nice and creamy.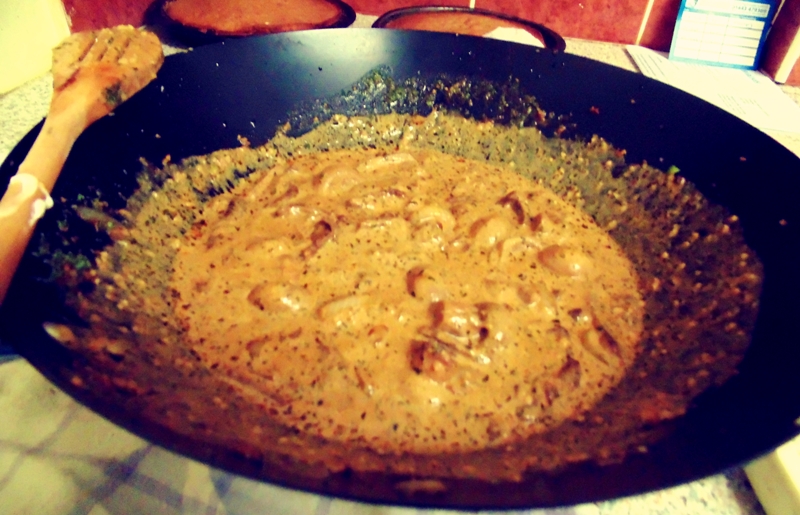 I've served this with Uncle Ben's Pilau Rice (in a chefy square) but you could serve it with any form of rice or potatoes. The only thing missing on the photograph of the presentation is a chefy leaf of greenery…. you know what my mother's like – she's already commented on the lack of greenery on the photos.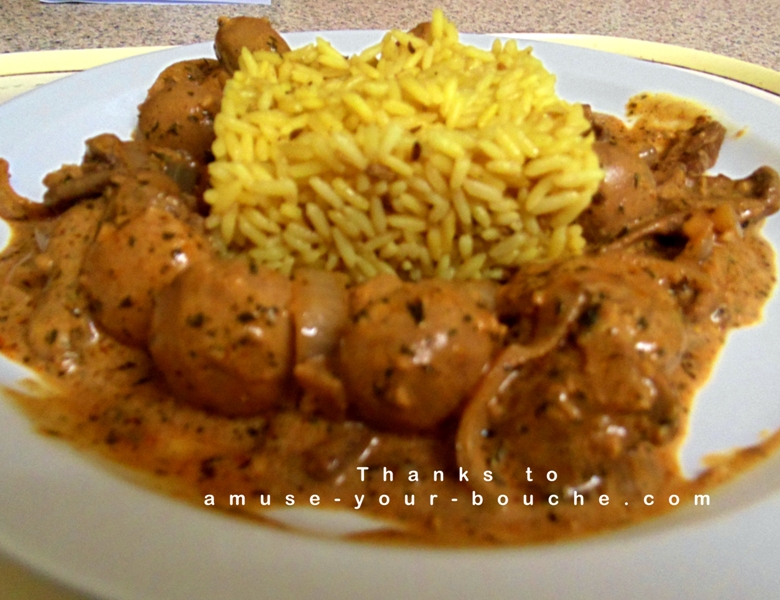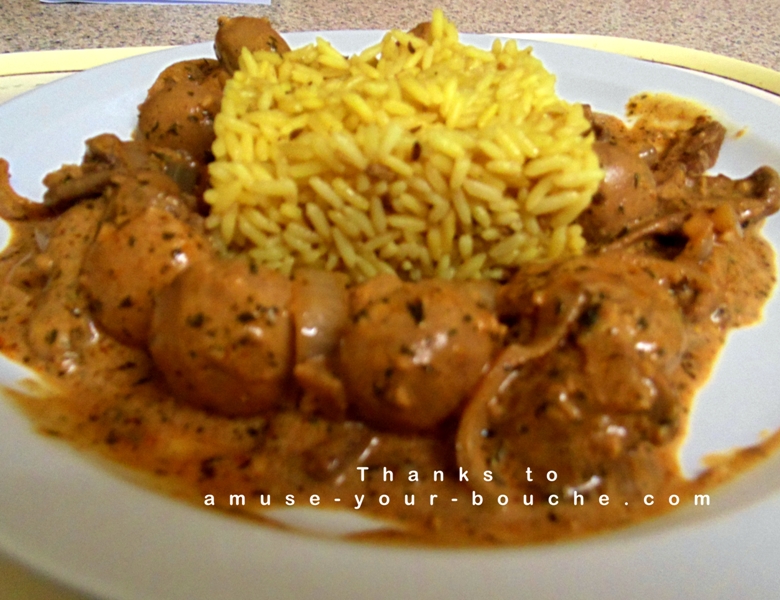 Thanks again to Becca for the recipe; you can click here to see the original. Remember you can download our step-by-step recipe from the link here. This is an excellent recipe, and I was fully able to make it all on my own – with the help of my JML can opener. Find our Social Networking pages on the left hand side of the page. If you have any questions or ideas you'd like to ask about please feel free to get in touch by emailing enquiries@wheeliegoodmeals.co.uk.  Come back again soon and, together, we'll make more Wheelie Good Meals!
See you soon 🙂