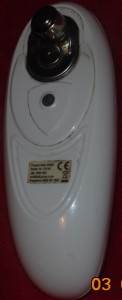 Now I don't really know why I'd need a can opener on a desert island but you never know when there's some Del Monte cans to be opened!  When reading my blog a Zoe a friend of mine reminded me that I have a really useful tool that I hadn't blogged about yet, it does what it says on the tin, it's my JML can opener!  I bought mine some time ago from Wilkinson and in all fairness it's never let me down (I'm touching wood as I blog)!  It's become a must have gadget in my house with my mother also relying on it.  I'm sure you'll see it in action with me soon enough as we post our videos but for now here's some pictures of it.
This gadget is ideal for people like me who have issues with their wrists but also very good for people with visual impairments and those who have arthritis and other manual dexterity issues.
If you have any questions you'd like to ask about either myself or the Wheelie Good Meals concept please feel free to drop us a line on enquiries@wheeliegoodmeals.co.uk. Don't forget you can find us on Instagram, Twitter, Youtube, Google+ and Pintrest as we make Wheelie Good Meals!
See You Soon