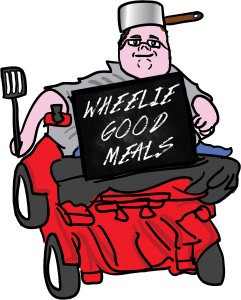 Hello and welcome to Wheelie Good Meals with me Richard Jones. I'm very lucky to have grown up as a butcher's son and with a mother who is an excellent cook. My father likes good British food, whereas my mother, on the other hand is very adventurous in what she eats.
My love of cooking and good food comes in part from a love of cookery programmes. I have lots of favourite chefs but I suppose my top five (in no particular order) would be Brian Turner, James Martin, Bryn Williams, Jo Pratt and Cyrus Todiwala… oh and not forgetting the Italian Stallion Gino D'Acampo.
Jo Pratt is someone who I have the pleasure of classing as a friend, even if it is through the cybershpere. We became friendly through twitter and she is someone who has not only given me great advice in setting up this blog but also someone whose recipes I use frequently. Jo's "Madhouse Cookbook" is a book I refer to a lot along with "Brian Turner's Favourite British Recipes". Brian Turner, Brian's someone who I love to watch on television, he makes cooking interesting and enjoyable and fuss free (exactly what Wheelie Good Meals is all about), Brian also has a failsafe Yorkshire Pudding recipe which I will show you at some point.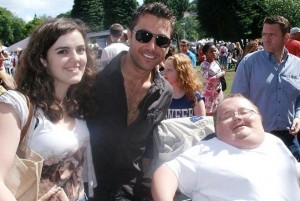 Being a big fan of Indian food and the use of spice I am love watching Cyrus Todiwala who has an amazing ability to work with spices and along with Tony Singh makes up the Incredible Spice Men on the BBC, something you should watch when/if it comes back on. Two other chefs who have an amazing way with spices and who I also use as inspiration are Ching He Huang and the legendary Ken Hom.
Lots of people have helped in the making of this concept, you can find them on our acknowledgements page.
I hope you enjoy the Wheelie Good Meals concept, If you have any questions you'd like to ask about either myself or Wheelie Good Meals please feel free to drop us a line on enquiries@wheeliegoodmeals.co.uk. Don't forget you can find us on Instagram, Twitter, Facebook and Youtube, join us as we make Wheelie Good Meals!
See You Soon