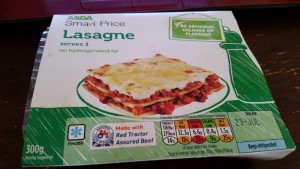 Ola, it's Tuesday so it's that time of the week again… here's this week's Time-Saving Tuesdays post… on time…. how many times can I fit the word time in a sentence…. lots of times (see what I did there).
The subject of this week's Time-Saving Tuesdays review is an Asda Smart Price Value Lasagne. Like the Asda Bolognese Pasta Bake I Reviewed on the 23rd of June this was a Smart Price ready meal for one, but unlike it's bolognesy counterpart it doesn't quite live up to the mark, let's find out why shall we?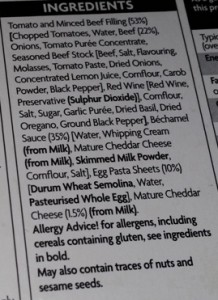 The ingredients above seem fairly straight forward enough and the majority of them I use in my lasagne as do most people. Incidentally I don't make lasagne often because two very special ladies are experts at them. Hayleigh and Rhian are Lasagne queens…. now at this point I will say I've never tasted Rhian's Lasagne… (challenge offered) 😀 but I know it's reputation from friends who have tried it (people she loves more than me) :'( . I have however tasted Hayleigh's and it was fab, a great flavour to it, helped along by a glass of red wine….. happy days.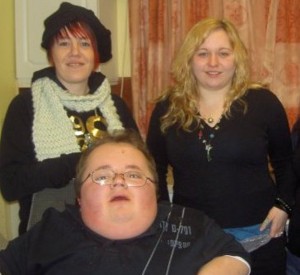 As always with Asda's Smart Price meals the cooking instructions were clear, I really like that it's one of my little pleasures in life, a good clearly written easy to follow set of cooking instructions. For me that's like coming home from work and your partner's put the dinner on the table, or someone giving up their seat on the bus for you, or finding a fiver in a pocket that you didn't know you had…. sorry I digress 😳 .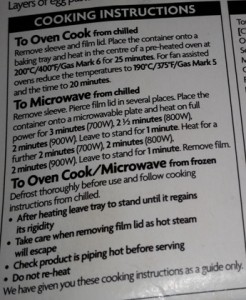 As always I cooked mine from frozen, you'll notice in the above cooking instructions it accounts for my rubsihy microwave which is 700W woop woop! 😆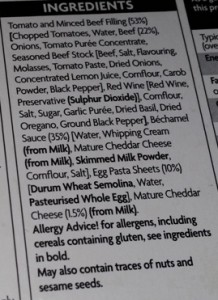 Here's the geeky sciency bit for all those of you out there who are fully au fait with the importance and the meaning behind the nutritional information. There is 6.6 grams of saturated fats and 8.4 grams of sugar, I was surprised at that, it's practically a dessert 😆 .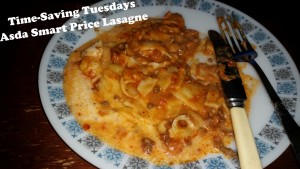 I have to admit that this ready meal was…. pants, don't get me wrong it wasn't as bad as the Westlers Burgers in Onion Gravy but it was pretty bad. In saying that, it could have been the way I cooked it, the box described it as
Layers of egg pasta with tomato and minced beef filling, topped with béchamel sauce and mature Cheddar cheese.
The sauce was runny and not particularly tasty, there was no depth of flavour to the mince and tomato sauce and the past just disintegrated as soon as you put your fork near it.

I'd give this a 5 stars, I want to give it a 4 but it was edible, I just thought it was pretty poor compared to Pasta Bake. Another reason why I've given it a five is it's 69p, that's pretty cheap and although I've slated it it is edible, and would fill a gap if you were in a rush.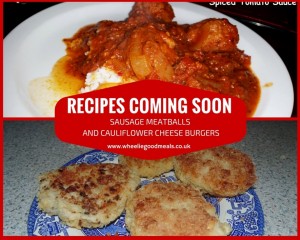 What's next on the Wheelie Good Meals agenda well it's either going to be my take on Rachel Khoo's Cauliflower Cheese burgers with Red Onion Chutney or Sausage Meatballs in a Spiced Tomato Sauce…. we'll see, but don't panic whatever one comes up this week it's a great recipe, and you'll have the other one next week.
We've also got another Mystery Bag Meals coming up this month and another fabulous guest post from Melanie of Melanie's Food Adventures and a few interesting Time-Saving Tuesday Posts including a gadget review!
See you soon!
Rich