Forgive me readers for I have sinned…. it's been 9 days since my last proper post!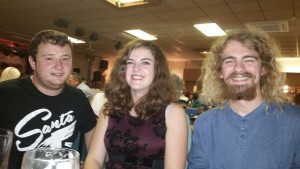 The world has gone mad, since my last post I've had wheelchair melt down's, I've been working on a new business start up, watched a fantastic Michael Jackson and Meat Loaf tribute act with Keri, Ben and Alice, visits from both Hayleigh and Stacey, updated to Windows 10 ( 🙁 ) oh and I may now soon be running one of the pool leagues I play in with Keri…. are you tired yet, you should be…. I am 😯 !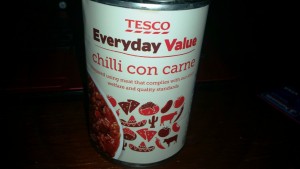 Anyway, the truth is I've been finding blogging a bit difficult in amongst ll the silly grown up s**t I've had to do! And I could even have been accused of losing a bit of motivation, until last night. I suppose I've had a bit of a realisation that sometimes you just have to stop, you can only do what you can do. I finally got to have a catch up with Greg over a meal and a beer last night…. not the best steak I've had (ok I've only had two) but it was a good night. Our catch ups are often very cathartic, well for me at least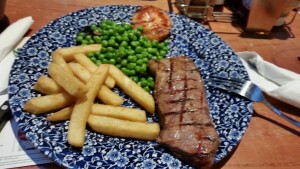 So on to today's review, we're looking at Tesco Everyday Value Tinned Chilli Con Carne.  Before I start the review you can read how I made Mags Cheats Chilli Con Carne or read my review of Asda Chilli Con Carne and Boiled Rice.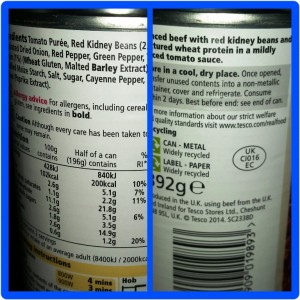 You can see the ingredients and nutritional information above, in case you can't read the key ingredients were:
Tomato Purée, Red Kidney Beans, Beef, Rehydrated Onion, Red Pepper, Green Pepper, Cayenne Pepper, Garlic Powder, Cumin Powder
Ding dong! These are pretty much the ingredients I use to make my Chilli Con Carne's bar the Rehydrated Onion (I use proper onion) and I don't use Green Pepper, you can't say fairer than that! However, there were some ingredients I wasn't so familiar with:
Textured Wheat Protein, Malted Barley Extract, Modified Maize Starch and Colour (Paprika Extract).
If you know what any of them are please let me know because I'm baffled! The can contained 400Kcal, 10.2g fat (of which 4.4g was saturated) and 2.4g of salt! I'm going to learn what all these mean in time, if you know share your knowledge with me!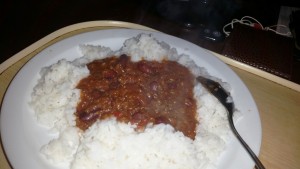 My mother and I have had this several times, as you can see above we've eaten it with rice, I've also had it with chips. It's a really nice quick and easy meal, takes little effort to cook as it can be heated in the microwave or in a sauce pan and is tasty. Taking into account everything, and, very importantly its price I'd score this one an eight out of ten.

My only one drawback is the texture was a little sloppy at times, the kidney beans didn't stand up very well and the meat was a bit mushy. That being said, it was just up my street with my teeth and my irrational fear of choking. I'd definitely buy this one again because it had a depth of flavour you wouldn't expect from such a shop's own branded ready meal, especially not one in a tin. You could pick the earthy cumin out and there was a slight spice that wasn't too "smack you in the face" but was more of a gentle cwtch (hug to all your non welshies).  Well done Tesco, you've done good!
I bought that one because it's a break from the norm, what's next (shrugs head) who knows? I will, I promise, be braining you my Mystery Bag Meals post this week, it's written up and waiting to go, and later on in the week sharing with you mine and Alice's Pasta Disaster!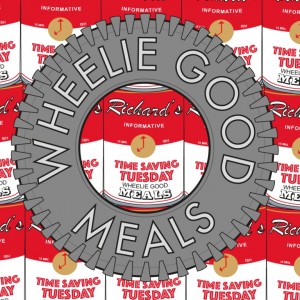 Thanks to Dave again for another fantastic logo, I don't know where Wheelie Good Meals would be without you for your logos and Greg for his photography!
For now remember to visit us on our social media pages and come back soon and we'll make more Wheelie Good Meals (you've got to love a catchphrase)! Happy Days (oops that's two)!
Rich 😎