It's that time of the week again, it's #TST time… I've got a jingle playing in my head already 😆 … I need more sleep 🙄 ! This was a ready meal I bought from Tesco some time ago, I don't know what made me buy it because I'm not, as you know, a mushroom fan… I suppose I'm not a fun guy really 😥 !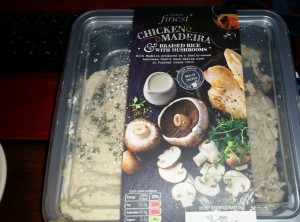 Firstly the packaging was really clear, I don't know if black and white meets RNIB "Clear Print Guidelines" but it looked classy and was clear to distinguish. Clear packaging makes distinguishing the product easy for people with a visual impairments.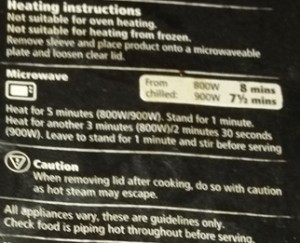 I apologise for the poor quality picture above 😳 , it does display the cooking instructions honestly! They were inappropriate for my microwave because it's 700W, the instructions here were for 800W and 900W, I think companies should be more mindful that there are some older microwaves out there which only generate 700W and 750W.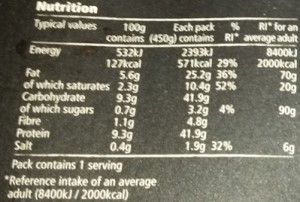 Again, apologies for the poor quality picture of the Nutritional Information above, I think I was having an off day! I have no idea what these statistics mean but there is 10.4g of Saturated Fats, and 1.9g of Salt. These seem high to me, although, as I said I'm no expert in these matters. What are your opinions on them, let me know?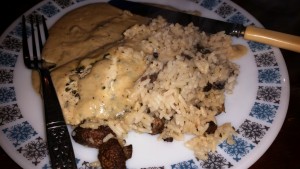 The sauce was stunning, it was rich, velvety and deep in flavours. The rice was soft and tasty, however, the mushroom slices were too big for me so as you can see I left them to one side above. The chicken was succulent and soft to eat which was a bonus in my eyes. I really enjoyed this recipe, the box describes it as:
Tender British chicken breasts, in a creamy sauce, made with Madeira wine from a family business in Funchal. Served with delicious braised rice with chestnut, Portobello & button mushrooms.
I'd never, ever, heard of braised rice but I've looked in to it and it's cooking rice in the oven… did you know that… ok ssshhh I'm a bit twp! I thoroughly enjoyed this one and would recommend it to anyone, I always mock my aunty who doesn't like coffee but likes coffee sweets and chocolates – I'm not that different lol I don't like mushrooms but I do like the taste of them in sauces and this sauce was lovely. I'd give this a 8 out of 10 easily, it was great.

Coming next we have the Scallops with Pea and Mint Purée that Greg helped me make and Dean Edwards' Lamb Kofta Curry with Greg's Saffron Rice. Get involved on our social media pages or check out some other great blogs we connect with on a regular basis through weekly links and of course Melanie's Food Adventures Blog for fab recipes and more
Tasty Tuesdays | Brilliant Blog Posts | Recipe Of The Week | Post Comment Love | Melanie's Food Adventures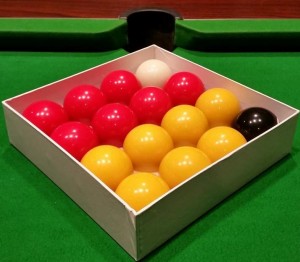 You've read in the past about the fact that I play pool on a Tuesday well we've got our last game of the season tonight.  A lot of us have played together for a number of years and while this year has been the hardest in our current form results wise – we have a great team spirit and excellent atmosphere.  We're playing a top team in the league tonight, where are we bottom… let's hope we get some points – good luck boys!
#PlayWhatYouSee #NothingsEasy
See you later in the week, Rich 😎