This was a no brainer for me, as you know from many posts Shepherd's or Cottage pie depending on your opinion is one of my favourite things to eat. I've posted my Comforting Classics Shepherd's Pie in February and it seemed quite popular, I know it is in my house – but this one is even easier.
I know people are going to look at this and think, "seriously, he must be off his head" but it works, as long as you're a minced meat eater you'll like this. The ingredients are simple if you're making it for one – a tin of Minced Beef and Onion, an oxo cube, salt, pepper and a large potato.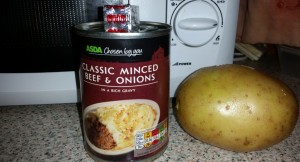 I've used Classic Minced Beef and Onions from Asda (as you can see above), I've tried Tesco Cheaper Range, Asda Cheaper Range and Princes and in my opinion this is the best. I simply warm it through in a sauce pan with a crushed up oxo cube. If you're feeling really fancy you can put some tinned carrots with it, I've not done that for a long time but it does work.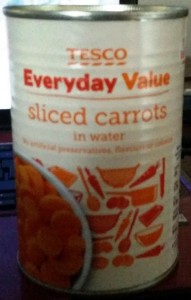 For the mashed potato I simply prick a potato and then cook it in the microwave until it is cooked through. When it's ready I scoop the potato out into a bowl with a drop of milk, some butter and seasoning. Michele Roux Jnr said on television that baked potatoes make the best mashed potatoes because they are dryer. I agree and always do my mashed potatoes like this if I'm cooking for one or two people – if I was making a large batch it may be a bit time consuming. You can use pre-bought mashed potatoes like the one I've featured on the blog before (below):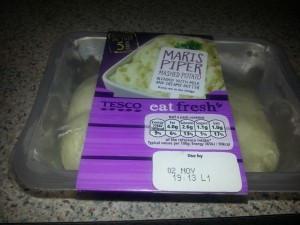 Give this a go, I thoroughly enjoy it and make it quite often. It's easy, tasty and best of all hassle free so you can make it if you are in a hurry. You may remember reading in my post about Cheat's Ingredients where this recipe came from, it's a bit nostalgic and that's part of why I like it so much.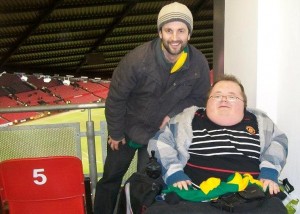 I think it's only fair I post an apology to Greg, my post regarding my most recent dinner party wasn't very favourable on his efforts in the kitchen. I had forgotten (probably as a result too many brain cells being killed off because of booze) his involvement. Greg made the Pea and Mint Pruée for the Scallop Starter (which involved struggling with my dodgy food processor). He also cooked the saffron rice for the main course and presented it in a ramekin dish to style it, to top it all off he also cleared all the dishes away. Many thanks, as always to Greg for helping out, in all fairness he was on his feet all night!
Greg boy… Green and Gold boy!!
Coming up in the week is a post about Fish Fingers, it's better than it sounds and a recipe on the weekend hopefully! Plus it's my birthday….. yay on Friday! Greg my mother and I are off to Cardiff, will post some pictures on instagram and a review soon!
Rich