Now we're hitting the heights of pure comfort, in comfort terms this is this is a big king sized bed with a soft fluffy duvet, hot water bottle and a mug of cocoa (sorry was that a bit too 😆 ! Now there are two debates going on with this one…. debate number one Shepherd's pie off… my mother makes a different version to mine, whose is the best? We'll never know, maybe a blind tasting is in order. Debate number two is this Shepherd's Pie or Cottage pie. What's the difference I hear you ask, well Cottage Pie contains Beef and Shepherd's Pie (as in the name) contains lamb. I suppose you could say this was Cottage Pie because it contains beef but we've always called it Shepherd's Pie. May be because my mother's maiden name is Shepherd, I honestly don't know 🙄 .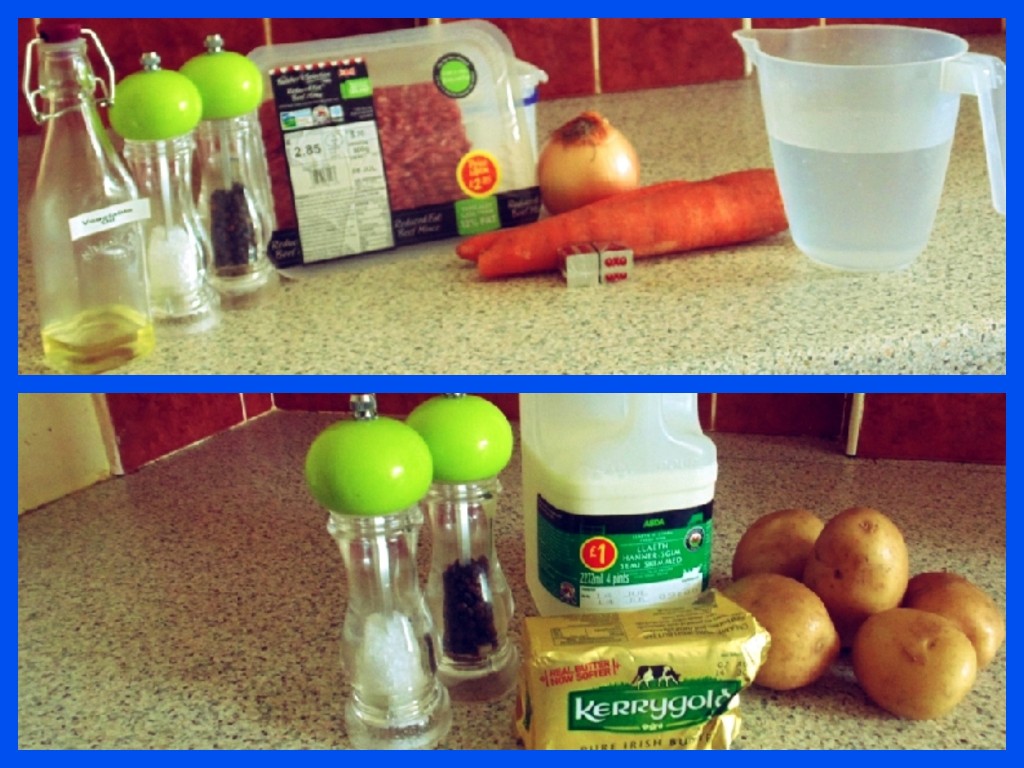 The image above shows all the ingredients the top picture shows the ingredients for the pie, you can see there isn't a large amount, the picture below shows the ingredients required for the mashed potatoes.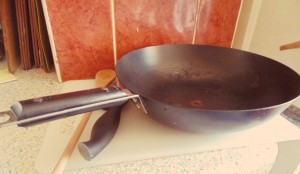 I didn't have very much in the way of utensils or pieces of equipment there was a casserole dish in addition to those pictured above. I love my Ken Hom Wok I cook everything in it but you can use a normal frying pan.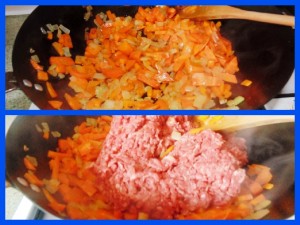 Chop the carrots and onions up, cut them up very small if you are in a hurry so everything cooks evenly. Fry the onions in the pan until they're softened nicely, then add the carrots and cook for a further few minutes. Once you've done that add the mince, stir thoroughly to allow the mince to break up. If you like it completely broken up rub a bit of oil in it first and then break it up before you put it in the pan.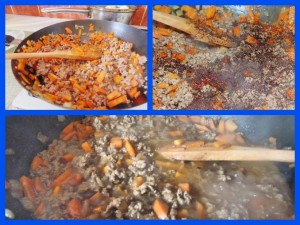 Allow the mince to brown thoroughly (see above left), cook it slowly if you've got time to allow the mince to become neighbours and good friends with the carrots and the onions, after all everyone needs good neighbours. Once browned, sprinkle over the stock cubes, this is where it becomes tricky. If you're adding 500ml of water then you'll probably need both stock cubes, stir thoroughly to give everything a powdery coat of stock cube goodness!   When the meat is coated with the stock cubes add the water (see the lower picture above), this is where my mother and I differ (she doesn't make gravy like I do because she makes it separately). I add 500ml (maybe 600ml) because I like gravy in my pie. Stir thoroughly and cook long enough to allow the gravy to thicken slightly.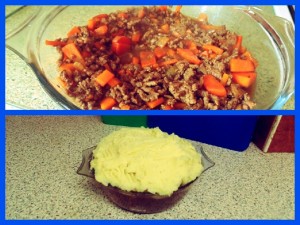 Now that the filling is cooked pour it into a casserole/oven proof dish and let it cool, pouring the mashed potato on top now would result in it sinking into the meat filling. Spoon the mashed potato over the filling. Fluff it up with a fork to get peaks that will crisp up in the oven. Bake in the oven for approximately 20 minutes (or until the top is golden).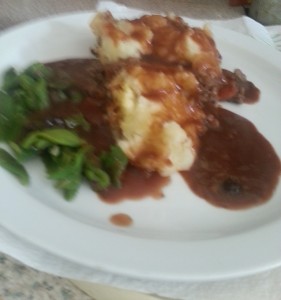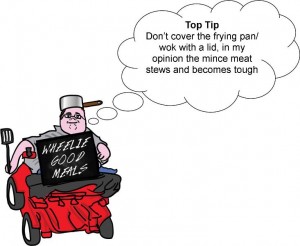 Oh my gosh, I can't tell you how much I love shepherd's, cottage THIS PIE 😀 . I've served it above with some green beans and some extra gravy.It's a versatile recipe, it can be frozen, make a big batch and store in the freezer ready for when you need something comforting when you come home from work. For more information download my step by step guide here.  To see the previous recipe in my Comfort Classics feature click here, it was a Cheat's Fish Pie.
If you like this recipe you may also like my Pig Sty Pie that I developed with the help of TV Chef Jo Pratt… I felt the poor little piggies were being a bit left out in the pie steaks! Next Tuesday I'll be reviewing a ready meal and it will be Tesco Tomato & Mozzarella Pasta Bake.
If you're going to watch the rugby this weekend then this dish (although I wouldn't admit it) could be cooked in honour of the England Rugby team but more sensibly you could cook my Leek and Potato Soup to support the Welsh dragons!
See you Tuesday 😎