Well hello there, how is your weekend going? Are you coping as badly as me with this horrific weather as I am? This recipe is guaranteed to bring a smile to your face especially when the weather is so bad!
I have been a fan of Dean Edwards since Masterchef 2005, he was a digger driver, hence the nickname Digger Dean! Dean was runner that year and has since gone on to be the resident chef on shows like Lorraine, GMTV and This Morning. My personal favourite though was the series "Take On The Takeaway" where Dean had the opportunity to support top chef's such as Gary Rhodes, Ken Hom and Ainsley Harriott in their attempt to make a takeaway classic for a family quicker and cheaper than their usual local takeaway.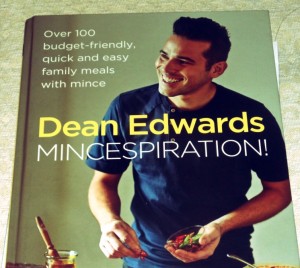 Dean launched his first book in February 2013 called Mincespiration, my copy can be seen above, although what you can't see very well is all the book marks of recipes I want to try! As you all know I love mince so this book was right up my street, I decided to make the "Pork Meatball Thai Curry" on page 110. As always this is my take on the recipe and varies slightly from the version in Deans book. Keep your eyes peeled for more recipes from this book, I featured one in my Dinner Party in December which was a Lamb Kofta Curry.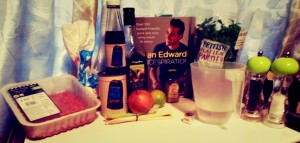 Don't be put off by the ingredients above, the list is not that complicated and can be obtained in all supermarkets. I made this recipe twice, the first time I cooked it I used coconut extract and milk, this worked ok but it was much nicer with the coconut milk. Fish sauce (Nam Pla) is an Asian condiment, it's taste is unique and has been described by Nigella's team on her website as having a salty, slightly sour but very savoury flavour. If you are going to make more Thai food I strongly suggest you buy this, however, if you are allergic to shellfish you won't be able to use it. If that is the case use a few drops of Worcestershire or Soy sauce which will give you the salty flavour, Nigella recommends adding some lime juice for the sour flavour.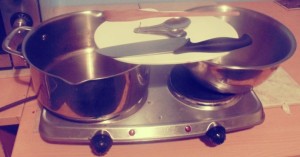 The equipment picture above shows you how easy it was, I just used these (oh and a ramekin for the Thai paste once I'd made it). I always think you can tell how easy a recipe is by how many utensils, pots and pans it takes to make it.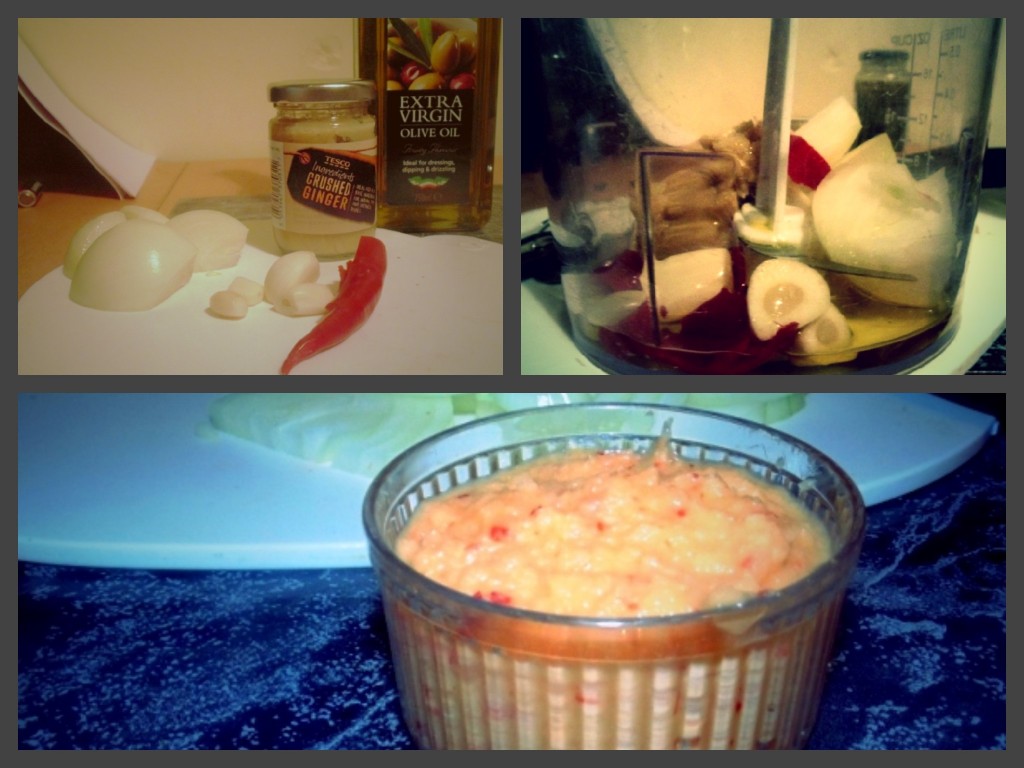 The first thing you need to do is to make the Thai curry paste, I've shown the three different stages above. Peel the onion and garlic, deseed the chilli and place them along with the rest of the Thai Paste ingredients in a food processor and blitz. As you can see I've used 2 teaspoons fo crushed ginger in my recipe but you can use a thumb sized piece of ginger root. You're looking for a paste consistency, mine above was almost paste like, I think I'd added a bit too much oil perhaps but it was fine. Naturally with any recipe it's a set of guidelines, recipes are there to steer you on the right path but experiment, do what's right for you.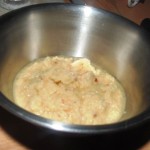 The colour and the consistency will depend on how much of the ingredients you use and how much you blitz them, I recipe tested this twice and had two different types of paste, the second one tasted the best (above) but the first one looked more like a paste (right)
Now for the balls (if you'll excuse the expression) you should start making the balls by placing the minced pork, ground coriander and salt and pepper in a large bowl. With clean hands mix thoroughly till all the ingredients are combined. Wet your hands as this will make it easier to roll the meatballs, then take the mixture and shape into balls, the recipe suggests golf balls but I made them slightly larger as I think it worked better.
Top tip – when rolling meatballs, keep one hand still and roll with the fingers of the other.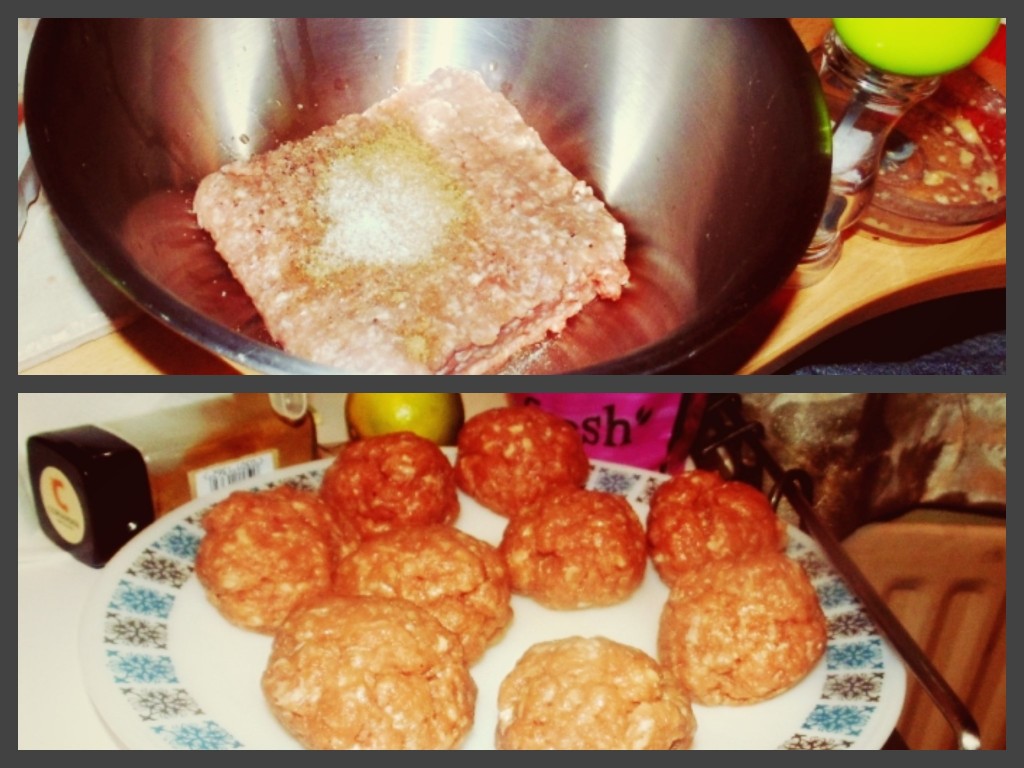 Place on a plate, cover with clingfilm and place in the fridge for 30 minutes. Heat some oil in a frying pan and fry the balls until they are just starting to go golden brown, place on kitchen paper to drain the fat away and then cover with foil and set aside.
To make the curry sauce, start by frying the sliced onions, I cut my onions on the half moon for the first one but for this cook I blitzed them slightly in a food processor. Fry them until softened then add the Thai Curry Paste and the Lemon Grass (bruise the Lemon Grass before adding it) and cook for a few minutes. The pan will eventually look something like the image on the left, once you're at this stage Add the coconut milk, stock and fish sauce and bring to a gentle simmer.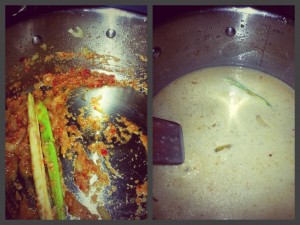 When the sauce is ready add the meatballs back to the pan, remember to pour in any resting juices. Now this is where I'm a bit weird (only here I hear you say… yes… only here J )! In my opinion you should add the resting juices but NO BLOOD if you've cooked the balls well enough you may have some resting juices that have run out of the meat, this is tasty and shouldn't be lost. If you haven't cooked the balls enough (not that that's a bad thing) you'll have blood on the plate, I wouldn't add that, just the balls. Cook this for a further fifteen minutes or until you are happy that it is ready.
Add a squeeze of lime and sugar, taste and add more of either if required to get a good balance of flavours. Dean's original recipe states to use Coriander but I didn't have any at hand so I chopped up some parsley and sprinkled that through.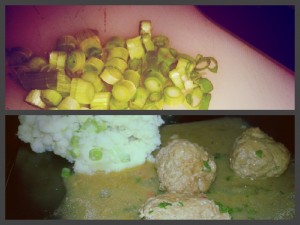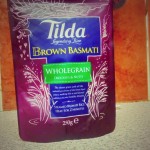 There are lots of serving suggestions for this, when I cooked it the first time I had it with some mashed potatoes that I sprinkled some finely chopped spring onion through (above). The first time I cooked it my mother and I had Tilda Quick cook Brown Basmati Rice (right) in the cupboard, this is really easy to cook and very tasty, there are lots of other quick cook rice sachets out there, just this is what we had in our cupboards.
This recipe is a real revelation, as you know I wasn't a massive coconut fan but boy did it work in this recipe. I've cooked lots of things in the past that I have called Thai because they've had ingredients that I associate with Thai cooking but this was awesome. It was rich, comforting, had a depth of flavour that was fantastic and I think that was because of the fish sauce. When I tested it the first time I didn't add any sugar and lime juice… because I know best, clearly not! The addition of the sugar and the lime juice really balanced the flavours, it changed it from being nice to… wow!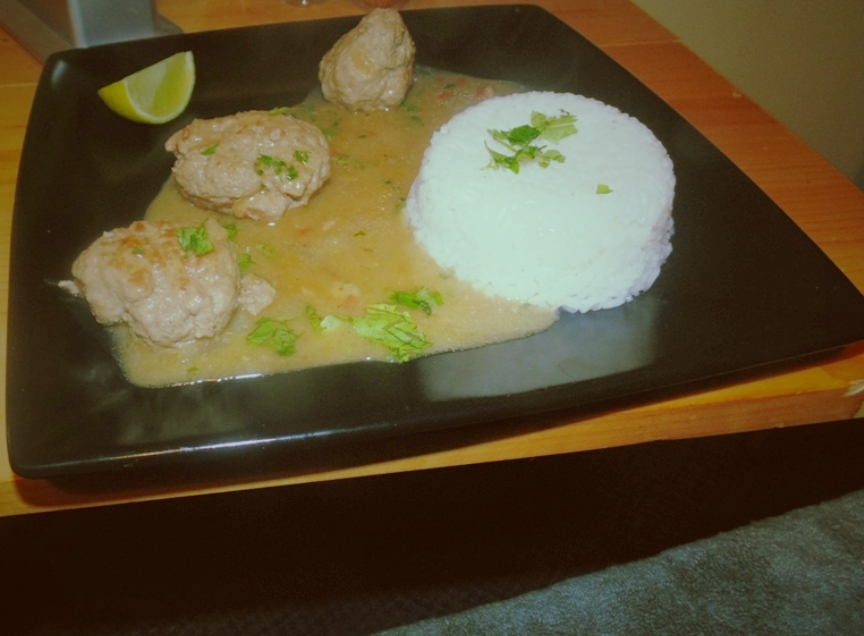 The only piece of advice I can give you when cooking this really is take your time, don't rush a step because allowing all the flavours to meld together and get to know each other will give you the real depth of flavour that I got at the end.
Another great recipe and This is one of my personal favourites and a great way to follow on from Stacey's Brocliflower Chees Bake. This recipe is great in the bad weather, I found it froze well, just make sure you use common sense when defrosting it. Don't forget to download our step-by-step recipe from the link here.
Keep your eyes peeled as our next instalment in our Time-Saving Tuesdays series will be coming up soon (notice I said soon and not Monday, you know what I'm like). If you've got any questions, ideas etc, email enquiries@wheeliegoodmeals.co.uk or go to one of our Social Media pages.
See you soon and enjoy the rest of your weekend 😎