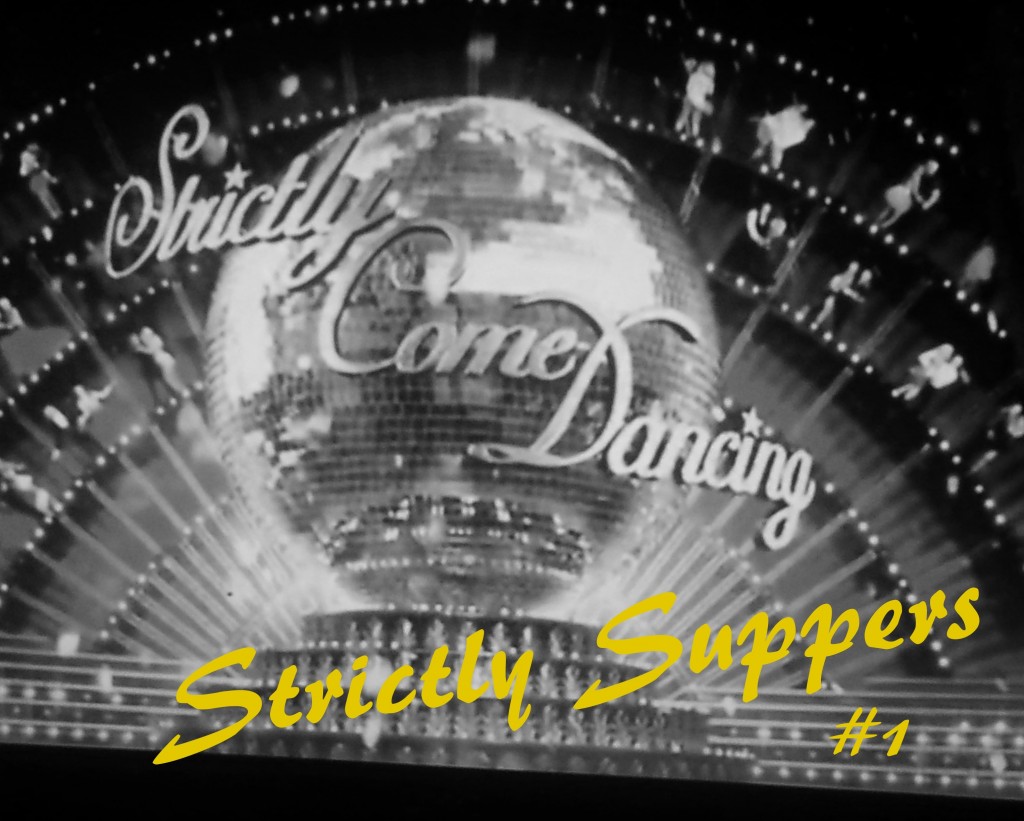 As a fairly big strictly fan I thought it was only fair to honour the show with its own Wheelie Good Meals feature. I can't promise how religious I will be with this or how tenuous the links will be but with Alice and fellow strictly fan Greg helping me I'm sure we'll get there.
So this week's Strictly Supper is Cha-Cha-Char-Grilled Chicken With Tomato Salsa and Spiced Potatoes. It's created in homage to the Cha-Cha-Cha…. in case you hadn't guessed; this was performed by Gregg & Aliona in week one who are no longer in the competition.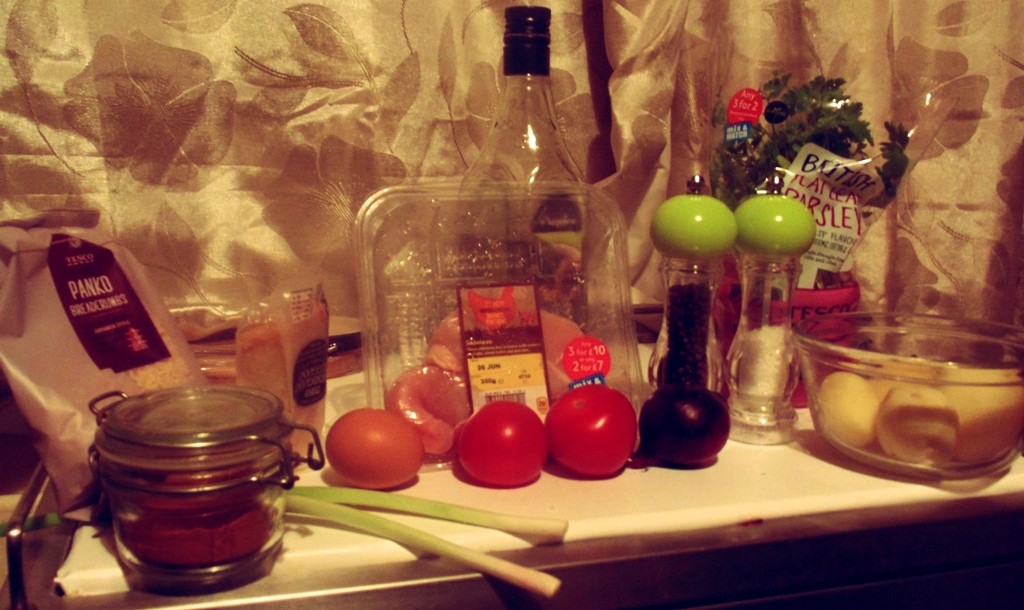 This is the first time I've cooked Chicken like this (I'm ashamed to say!) It was so easy and cooked really well, I've had trouble in the past with overcooking/undercooking but this was great. Remember to follow safety guidelines when cooking chicken, I've given out some website addresses in the past, to find them check Alice's Piri Piri Chicken out. This was really easy and straightforward to make, I know there' are a few utensils and pieces of equipment but trust me it's not a reflection on how the dish cooks but more how I like to have the right tool for the right job!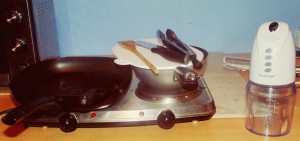 For the breadcrumbs I used Japanese Panko breadcrumbs because they are much crispier than normal run of the mill breadcrumbs you'd we'd make at home. I mixed these with Parmesan cheese and fresh parsley; I blitzed the cheese and parsley in the food processor. It is important to make sure there isn't any moisture otherwise the cheese won't blitz it'll just turn into a claggy blob…. you'll know when it happens to you. I used half a bag of crumbs to a very large handful of parsley and a large chunk of cheese; you can use however much of these you like – remember it's all about taste 🙂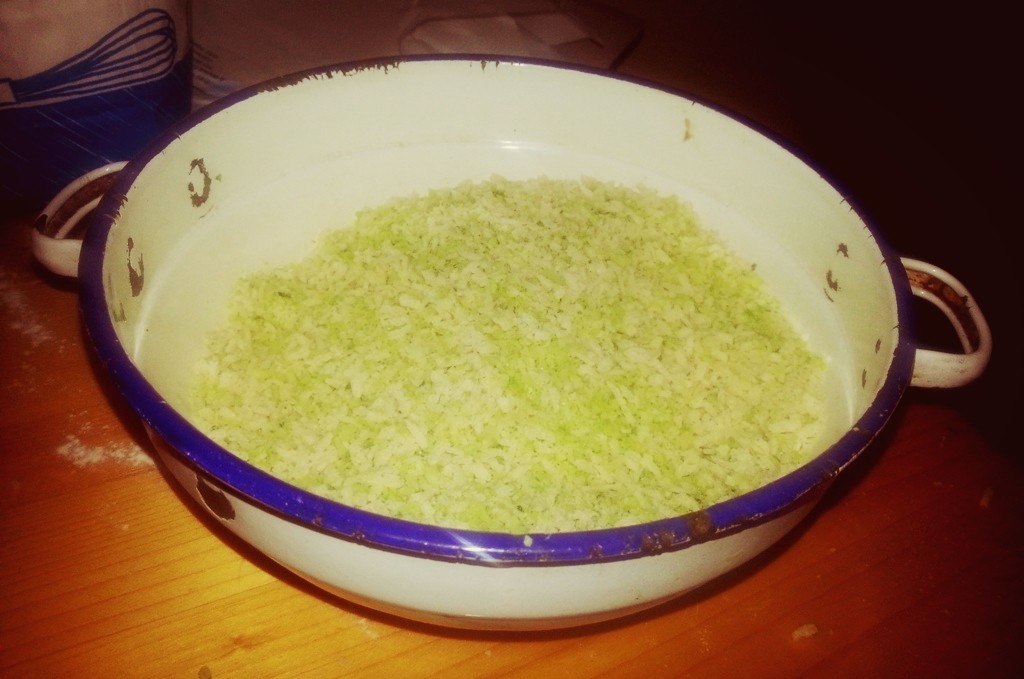 It is important to get the order right for the Flour Egg and Breadcrumb process (or Pané something). Make sure the bowls are lined up in the right order; my top tip here is to keep one hand for wet and one hand for dry. I'm a bit of a weird 'erb when it comes to having mucky hands so this is the best system for me or you could ask someone else…. MAAAAAAAMM!!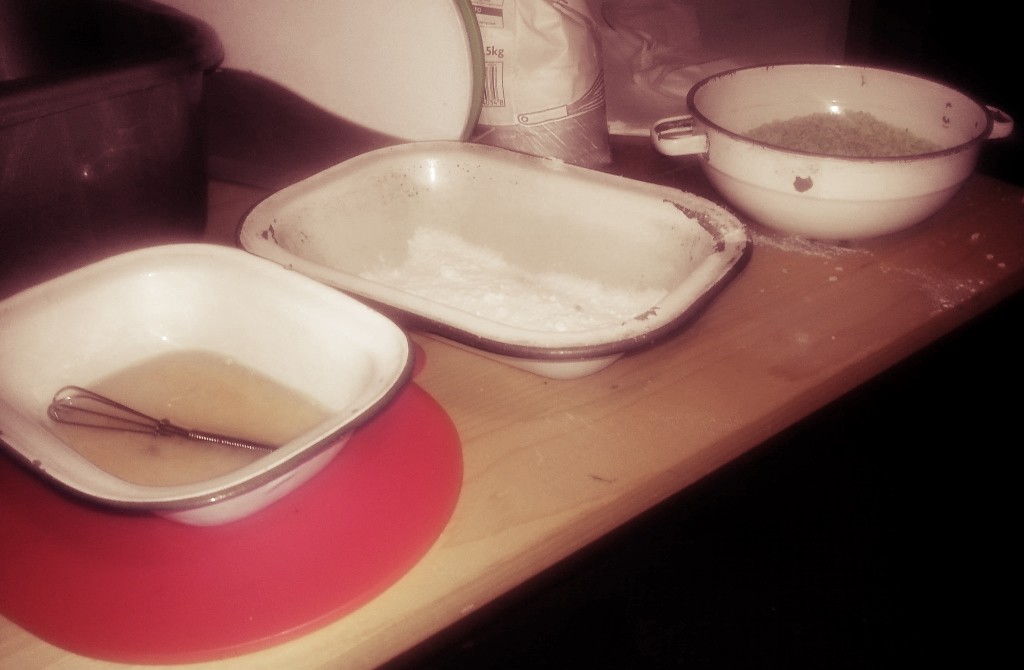 When carrying out this process make sure you add salt to the egg as this helps to break down the protein in the egg which helps the crumbs stick. On to the spicy potatoes, I call them spicy but to be honest they weren't overly spicy they were more tasty (as my mother would say). I've used my own spicy mix which on the whole is 1 tsp each of a lot of spices, I vary this from time to time depending on what mood I'm in or what I'm cooking but usually keep some in the cupboard as you can see from the picture below. I've used left over potatoes in this recipe, if you haven't got left over potatoes, par-boil some in the microwave or on the hob then coat with the spices and fry.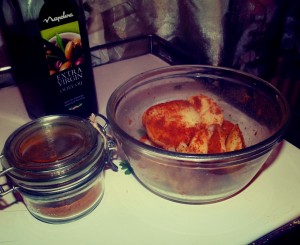 For chicken, place the breasts into clingfilm, you do this because this will stop the breast from breaking up. Once you've wrapped them and their snug bash the living daylights out of them with a rolling pin or something equally as heavy until it is the thickness of a £1 coin. You can see the before and after (like a This Morning Makeover) pictures below: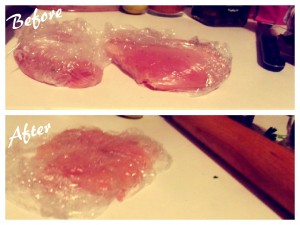 Once you've done this set it aside to rest, there's no particular reason for doing this, I just left it while I made the salsa. I make lots of different variations on salsa, and in keeping with the strictly theme you'll see them soon but for this one it was quick and simple. I simply chopped up the onion and tomatoes in to quarters placed them in the food processor, with lime juice, spring onions, olive oil and salt and pepper. Blitz until you have the consistency you are looking for, I blitzed it so that it was quite fine, see the ingredients below: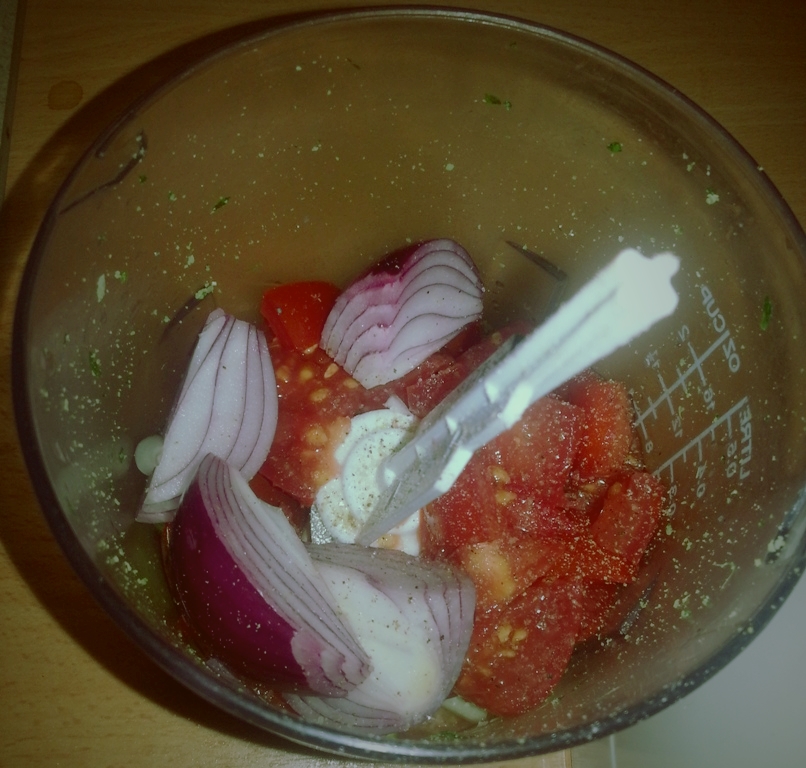 Now carry out the pané process dredging the breasts in flour (it is important to shake off excess flour), then with another hand dipping them in the egg and then into the breadcrumbs. It is important to make sure that the whole breast is covered in breadcrumbs; any parts without crumbs may burn.  Your breast should look something like this below (only without the photography effects 😆 )
The get your hob on, turn your griddle pan and frying pan/wok up fairly high and add oil (I'd also add butter with the potatoes to make sure the spices don't stick to the pan). Transfer the chicken to the griddle pan and fry on high heat for five minutes per side. While frying the chicken transfer the potatoes to the frying pan and stir regularly, you should cook these on a medium to high heat. Because they are left over potatoes you don't need to cook them just brown them.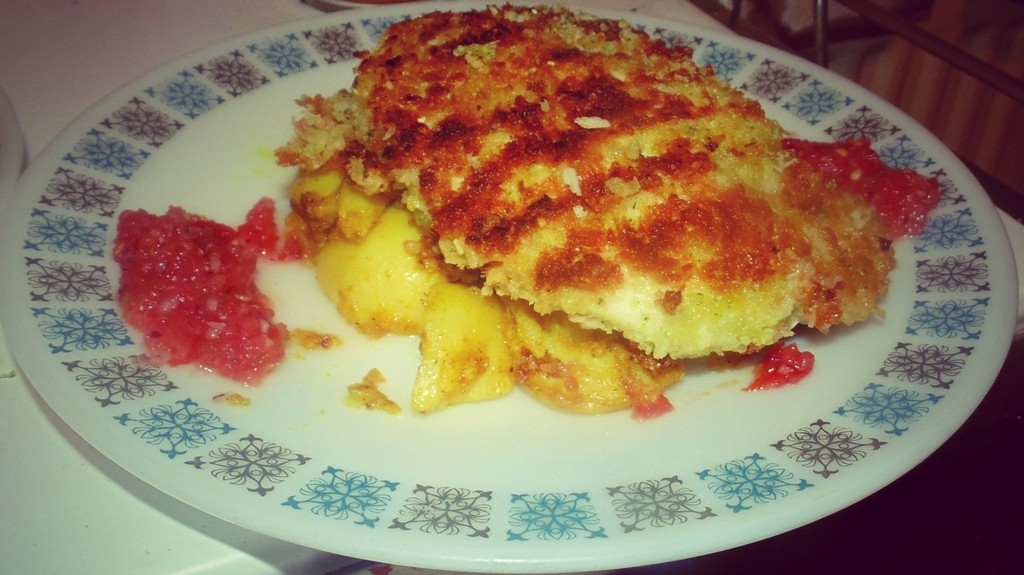 Once cook place the chicken on a clean plate for resting for a minute or so. As you can see above I placed the potatoes in the centre of the plate, then top with the chicken and spoon some of the salsa around the edge.
Thanks to Greg for the Cha-Cha-Char Grilled idea, come back next week to see what other Wheelie Good Strictly Supper I've made.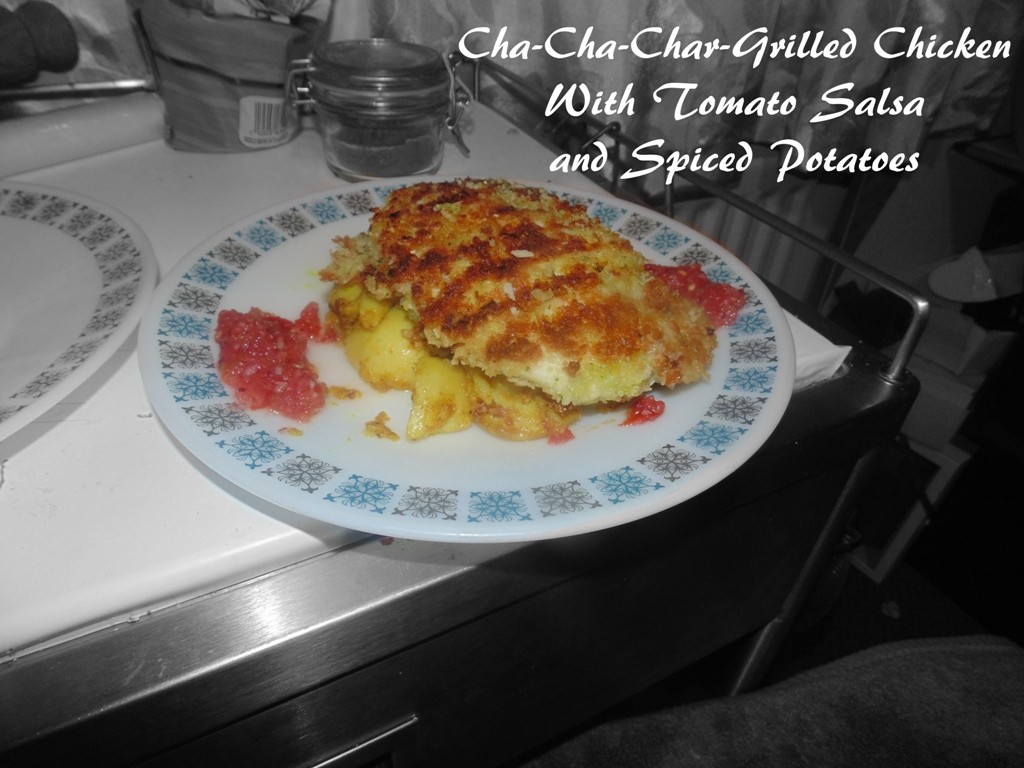 As always you can download our step-by-step recipe from the link here. Feel free to get in touch with ideas, questions etc, you can email enquiries@wheeliegoodmeals.co.uk or go to one of our Social Media pages.
Ta ta 😎