Bistro Chicken with a Red Wine, Madeira and Mushroom Sauce Followed by Raspberry and Passion Fruit Soufflé and a bottle of Valle Central Cabernet Rosé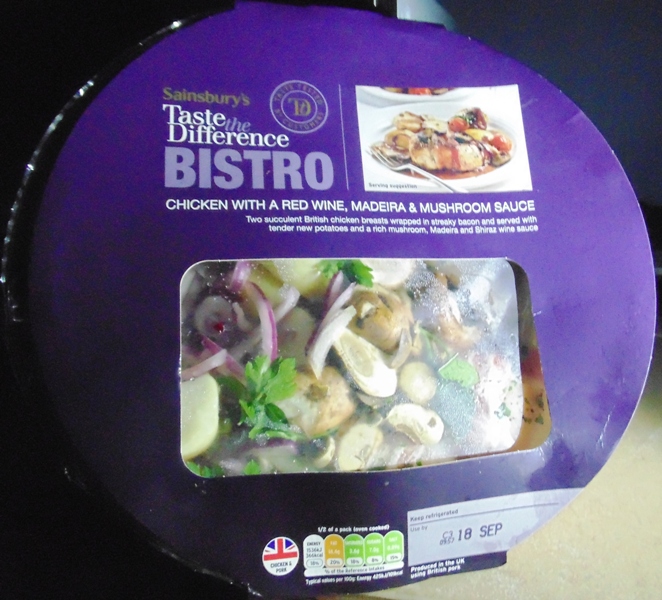 I'm probably going to have to start calling this feature Ready Meal Tuesday, or publish it on time… whichever's easiest 🙂 ! For this week's instalment of Ready Meal (whatever day of the week it is) I'm reviewing a meal my sister bought me – a little like the M & S Dine for £10 (Pea and Mint Sea Bream Fillets, Cheddar Cheese Croquettes, Raspberry Panna Cotta and Loretto Trebbiano Rubicone)
This meal was a revelation in my mind because; if I'm honest I wasn't looking forward to it. For no reason other than I've only just become a red wine drinker and the sauce was red wine and the chicken had a Streaky Bacon around it which I didn't fancy. Boy was I wrong! I thoroughly enjoyed this, again… yes you've guessed it I shared it with my mother and we were both extremely impressed. The dish is labelled as being:
2 Marinated British chicken breasts wrapped in oak smoked streaky bacon served with, new potatoes, mushrooms, red onion and cherry tomatoes and a rich red wine gravy.
The taste was excellent, the vegetables were good and the sauce had a (not to sound like I'm pinching their words) a rich deep taste. The front of the box describes the sauce as a mushroom, Shiraz and Madeira sauce you could definitely taste the mushroom and the Madeira in it. The chicken was beautifully succulent I think the bacon around it helped tremendously to keep it moist. See below for a break-down of the nutritional information and the cooking time.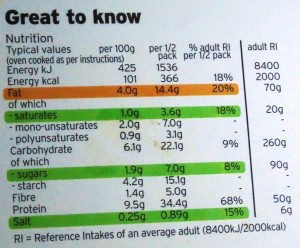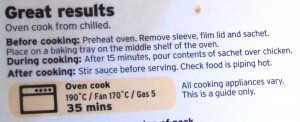 The only drawback I felt was the potatoes. We cooked it for the appropriate amount of time, but the potatoes were rock hard. We actually put them back in for ten minutes and they were still very hard. They were too hard for me I've got to be honest, my mother managed them but you know what she's like she'll eat most things.  You can see a picture below of the finished dish when it was plated (not my finest photograph though sadly)
On to dessert…. and what a dessert it was to, we had two (one each of course 🙂 ) Raspberry and Passion Fruit Soufflés. These were fantastic, quite sharp and very good to cut through the richness of the previous course.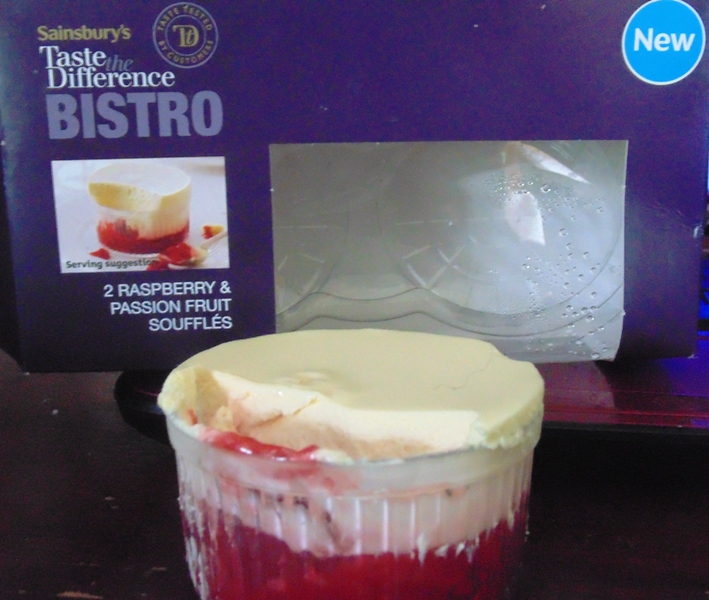 It consisted of Raspberry compote topped with a passion fruit mousse. You can find the nutritional information below: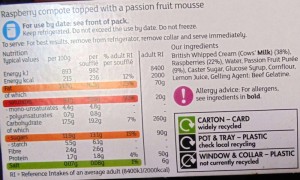 I don't think I've ever consciously tried passion fruit in anything other than a drink. It was excellent and a dessert I'd strongly recommend, in fact I'd strongly recommend both courses, so that brings us nicely to the wine.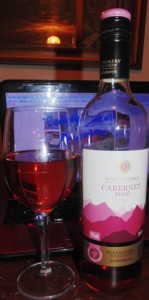 The wine was a Chilean Cabernet Rosé, now as you know I'm a white drinker as a rule but this was very pleasant indeed. My mother and father tried this one before I did… that shows how good it is. It was a dry crisp wine, which, is how I like all my whites to be so that was a bonus. I'm getting in to wine as you know… so don't judge me on the following statement – I'm reading off the bottle
Ripe red fruit notes with a touch of rose and violet. Perfect with Seafood Platters and salads.
Ok I had chicken but in my opinion it was perfect with that to. I really enjoyed this wine and for a white lover like me it was definitely the right choice – well done Heath :). There was a small indication on the bottle of how dry the wine was on a scale of 1 – 9 with 1 being the driest; this bottle was a 3 so it's a winner in my book.
Well all in all this was a total success, and something I'd most definitely order again. The main was excellent, great sauce and fantastic chicken. The dessert was sharp and vibrant and followed on well from the main and it was all washed down with an excellent bottle of wine…. A good day at the office for my sister I think…. as I said earlier, well done Heather, stand up and take a bow!
Don't forget to subscribe to the blog and visit us on our social networking pages (links on the left hand side of the page). Keep your eyes peeled for more recipes this week, we'll be making Saira Hamilton's chicken Bhuna (Master Chef 2013 runner up) come back again soon and, together, we'll make more Wheelie Good Meals!
See You Soon