I know it's not strictly in the theme of the blog but I thought I'd share my experiences at Demiro's in Cardiff recently.  My mother's birthday is on th 14th and my birthday is the 15th of May – so we usually celebrate together.  This year we thought we'd do something different and went for a meal to Demiro's which is on Cardiff Bay.
My mother and I were quite looking forward to it as we've not been out for a meal in a while. The evening itself was a lovely sunny evening and the bay looked fantastic, I was unsure what to expect as, if I'm honest the thought of a choice of Spanish, Italian or Welsh menus confused me a little.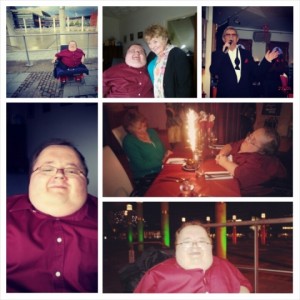 On arrival we were greeted by very attentive staff, who looked after all our needs, topping up our drinks and taking photographs when requested.  From a disability point of view the access was good, I didn't use the accessible toilet although there was one available. There was a lot of furniture but members of staff were more than happy to create room for someone with specific access needs.  I didn't ask about menus in other formats but if someone had difficulty reading the menus they are available on the internet via their website, I also have no doubt the waiting staff would be happy to read the menu to those who were unable to – I got the impression that they'd do anything to accommodate their guests.
Moving onto the food, because let's be honest that's important in a food blog! We opted for the Spanish menu, my mother's starter was Gambas y Aguacote (prawns and avacado) and I had Crab Cakes for myself with Tartare Sauce. They were excellent and very enjoyable, I enjoy crab cakes and make my own on a regular basis, these were as good as mine (maybe slightly better, just maybe)! Our mains arrived, my mother ordered El Pollo en el Champinon y Wine (Breast of chicken with mushroom and wine sauce) and I had the Monkfish "Demiros" (pan fried Monkfish served with ratatouille and new potatoes). Both starters and main were excellent and thoroughly enjoyed by the two of us. I had never eaten Monkfish but as it was a special occasion I thought I'd go for it – I'm glad I did!
Now for the desserts, is this your favourite part of the meal? I'm more of a starter person myself but when you're out for a meal you've got to indulge a bit, and boy we indulged! I had a fantastic Baileys Cheesecake, it was very rich but not too over the top it didn't leave me with a sinking feeling after it. My mother had a Trio of Chocolate, we tried each other's deserts and while, we liked each other's we preferred our own dessert.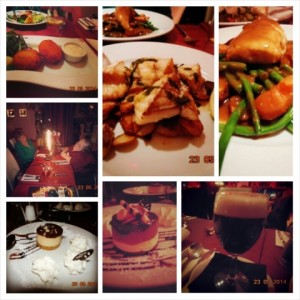 After a rendition of Happy Birthday from the singing waiters and blowing out the candle on a cake we were given we ended the night with fantastic entertainment and two cheeky Irish Coffees – bliss!
It was an experience I will definitely be repeating, although next time I will be visiting the VIP Piano lounge upstairs. Thanks to all the staff for their hospitality, especially Deano who was very entertaining and very interesting to talk to. Special thanks goes to Chris my mate as always for driving my mother and I down there, and my mother for paying for it!
I'd recommend Demiro's to anybody, as long as you like entertainment – if you don't then I'm not sure it would be your cup of tea but – the food certainly would! The entertainment took the form of two signing waiters who belted out show tunes.  Don't be fooled, they were not in the faces of the guests and were trained performers.  With an excellent sound system the songs filled the room without the intrusion of the Waiters.  Then there was Deano an excellent entertainer who performed rat pack songs and classics from that era – that was just up our street.  The waiters (well they were singers more than waiters) were excellent and Deano well, what can I say from Al Jolson to Ol' Blue Eyes himself a fantastic entertainer and a great man.
You can visit Demiro's online here for more information. If you have any questions you'd like to ask about either myself or the Wheelie Good Meals concept please feel free to drop us a line on enquiries@wheeliegoodmeals.co.uk. Don't forget you can find us on Instagram, Twitter, Youtube, Google+ and Pintrest as we make Wheelie Good Meals!
Hope you enjoy your visit, visit our Instagram page for more photographs of our time at Demiro's
See You Soon