I have a love of cooking, that cannot be denied, it's roots lie firmly with the four most important women in my life, my Grandmother, my Mother, my Sister and My Sister-In-Law.
My Grandmother – Affectionately known as "Mam Shep" was a fantastic cook and someone who loved to please people with food. She was also someone who I spent a lot of time with, cooking, talking about cooking and pretending to cook as a child.
My Mother – Known to the majority of my friends as "Mags" well she's a fantastic cook and the guinea pig for all my recipes. My father wouldn't take my mother out for many meals because he believes he can get better at home. I know everyone says their mothers are the best cooks but mine really is 🙂
My Sister – is another foodie and loves to cook, so, since I've started cooking the vast majority of my Birthday and Christmas presents from her and her family are food/cooking related which then leads to inspiration for new dishes. My sister isn't really someone I've tested many recipes on but my brother-in-law and I share a passion for all types of cheeses (and he's a good cook too) so he has recipes tested on him.
My Sister-In-Law – The recipe books you see in the picture below were a present of my sister-in-law and her family when I first started cooking. They are fantastic I love how simplistic they are, all the recipes are easy to follow and give you very straightforward instructions, ingredient and utensil lists. The recipes range from something as easy as boiling an egg to more challenging Lamb Casserole and Dumplings, these books are my go to books and I use them lots, as you can tell by looking at them.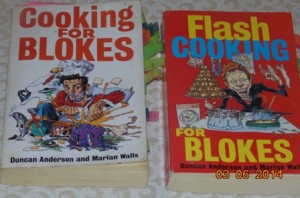 Where does your inspiration come from, what makes you want to cook get in touch via the usual methods.
See You Soon